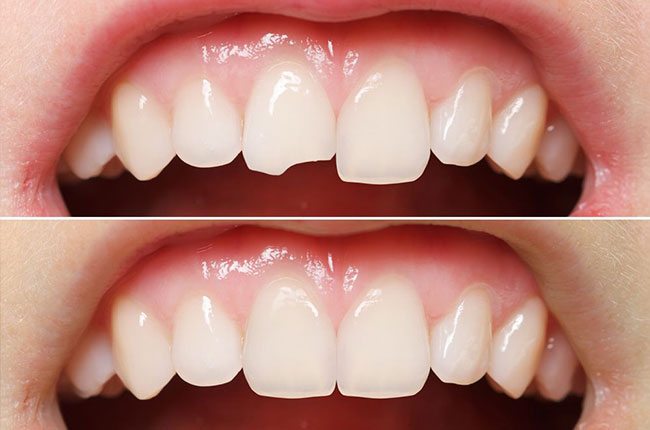 Dental bonding is a cosmetic dentistry procedure that we offer at our Provo, UT dental office.
You chipped your tooth and you don't know what to do?
You are not quite satisfied from the shape of your teeth and you think you need to do something to make them look perfect?
You have spaces between your teeth and you don't know what cosmetic dentistry procedure is right for you?
If you live in Provo, UT or in one of the surrounding cities like Orem, Springville, Spanish Fork, Lindon, Pleasant Grove, American Fork and Payson, you can come to Provo dentist office and let Dr. McKell and Dr. Packer decide if dental bonding is the best cosmetic dentistry option for you.
Teeth bonding consultation
A consultation at our Provo dental office will determine what cosmetic dentistry problems can be solved with dental bonding. The examination may involve x-rays and evaluation of the gums. If your cosmetic dentistry problem is decayed teeth, cracked or chipped teeth, gaps, tooth discoloration, "short teeth" and more, a cosmetic dentistry procedure might be right for you.
What is cosmetic dental bonding?
Dental bonding is a cosmetic dentistry procedure we provide at our Provo, UT dental clinic in which a tooth-colored resin material (a durable plastic material) is applied and hardened with special light, which ultimately "bonds" the material to the tooth to restore or improve person's smile.
If our Provo dentists decide that the best cosmetic dentistry solution for you is dental bonding, then a little advanced preparation will be applied before finishing the cosmetic procedure. Anesthesia is often not necessary unless the dental bonding is being used to fill a chip that is close to the nerve, the tooth needs to be drilled to change the original shape or fill a decayed tooth.
The cosmetic dental bonding process
The dental bonding process is very simple cosmetic dentistry procedure and does not cause any pain. After the resin is applied, our professionals make the right shape of your tooth and then a bright blue light or laser is used to harden the material. The final touch is polishing and matching the sheen to the rest of your teeth.
The dental bonding process takes about 30 to 60 minutes per tooth to be completed at our Provo Utah location.
Do I need to take special care for my cosmetically bonded teeth?
No you do not. Cosmetically bonded teeth require the same care as your natural teeth. You should avoid biting hard objects that might cause damage. Each time you visit us at our Provo dentist office, we will inspect the dental bonding and any other cosmetic dentistry that we have performed in order to ensure that it is holding up as desired. Our Provo dentists will perform any touch-ups if needed.