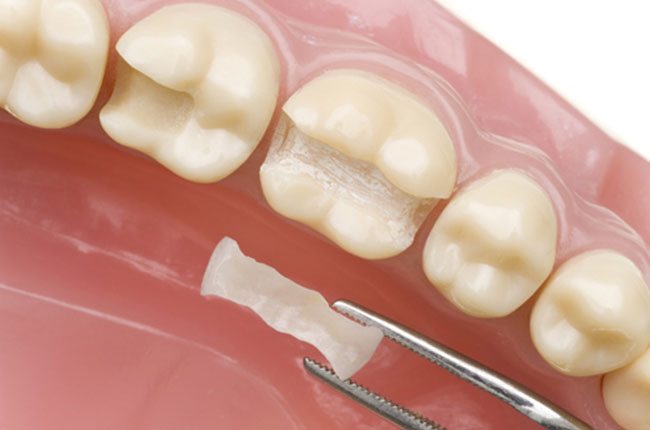 Dental inlay procedure is one of the many dental procedures we offer you at our Provo, UT dental clinic.
Have you wondered if you have other option that replaces a dental filling?
Is there more durable dental solution to fix my decayed tooth?
If you are not sure what your options are, then it is time to visit Provo dentists at our Provo, UT dental office before it is too late. If you live in Provo, UT or in the cities near Spanish Fork Utah, Lindon Utah or other city nearby, you can come to our office and our Provo dentists will make sure you choose the best option for your teeth.
What is a dental inlay?
A dental inlay is indirect restoration of a tooth. This means that the dental inlay is fabricated outside of your mouth and brought back in when it is done by the technicians at Provo, UT dental office. The difference between the conventional dental filling and dental inlay is that the dental filling is done directly in the mouth and the dental inlay is prefabricated in our Provo Utah dental office and placed inside your tooth.
What is the difference between dental inlay and dental filling?
Dental inlays are alternative to dental fillings and both replace a part of the tooth that is lost because of decay, accidental damage or wear. The dental inlays are made outside of the mouth by our specialized technicians at Provo, UT dental office and they are put inside the hole that is made by decay or some other reason. The dental filling is made directly in your mouth. The dental inlay is stronger and it lasts longer than a dental filling and it is especially suitable for teeth that are used for chewing the food or some major repairs on front teeth.
From what material are dental inlays made?
The dental inlay that our Provo dentist use can be made from metal, composite or porcelain. The metals that are used are gold, silver or amalgam. If you are not sure what kind of material you want to use, just ask our Provo dentists at Provo, UT dental office. They will tell you the difference and recommend the best material so you can restore your smile and have healthy teeth.
How do I take care of my teeth if I have dental inlay?
Dental inlays do not require special treatment. You can maintain your oral health same as before you had the dental inlay. It is recommended for you to make a checkup at least once in six months at our Provo Utah dental office.