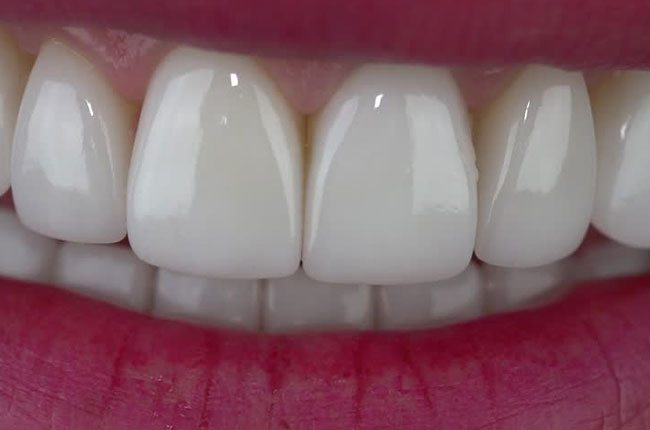 Dental veneer is a cosmetic dentistry procedure that we offer at our Provo, UT dental clinic.
If you are not quite satisfied of the look of your natural teeth but you don't want to make big change, then come to our Provo, UT dental office where Dr. McKell and Dr. Packer will tell you all about Cosmetic Dentistry. One of the most popular methods used in Cosmetic Dentistry is implanting dental veneers. Our dental veneers are made from the highest quality materials which ensures most natural and beautiful smile in Provo, Orem, Springville, Spanish Fork, Lindon and Pleasant Grove areas.
What is a cosmetic dental veneer?
Dental veneers (sometimes called porcelain veneers or dental porcelain laminates) are very thin, custom made shells that have color of a tooth and are designed to cover the front surface of a tooth to improve the appearance or cover abnormalities. People prefer to use cosmetic dental veneer in case of the following cosmetic dentistry problems:
Teeth that are discolored because of root canal treatment, have stains from using tetracycline or other drugs, excessive fluoride or the present of large resin dental fillings that has slightly different color of the tooth.
Teeth that are worn down
Uneven teeth or teeth that have irregular shape and teeth that are misaligned
Broken or chipped teeth
Teeth with gaps between them
What is the cosmetic dentistry procedure for cosmetic dental veneers?
The cosmetic dentistry procedure starts with examination of your teeth that is done by our Provo dentists. After the examination by our Provo dentists and the positive results, our Provo dentists will remove some parts of the enamel from your tooth so the dental veneer looks natural when placed. After measuring the right fit and the perfect color, your tooth is cleaned, polished and etched. In the end our Provo dentists will glue the veneer with permanent cement and place a special light to make it hard.
Do cosmetic dental veneers require special care?
Cosmetic dental veneers do not require special care. If you continue to follow good oral hygiene and have regular checkups at our Provo, UT dental office, they can last a long time.