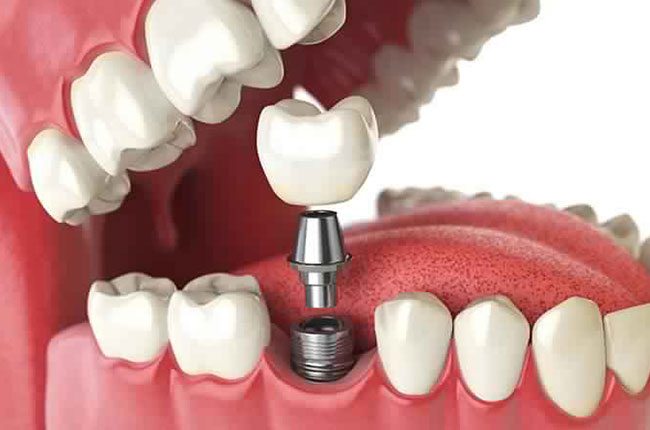 Dental implant is a cosmetic dentistry procedure that we offer at our Provo, UT dental clinic.
Are you missing some tooth in your mouth and you wish you get a tooth that will last for a long time?
Are you suffering from loose teeth?
You can't decide between dental bridge and dental implant?
Visit our Provo, UT dental office and we will provide you the answer to all of your questions. The Provo dentists led by Dr. McKell and Dr. Packer are there to make you feel comfortable during the procedures and provide you the best care using the latest technology. If you live in Provo, Utah or in the nearby cities like Orem, Spanish Fork, Springville,Pleasant Grove, Lindon, American Fork and Payson, you are lucky because the professional team From Provo, UT dental office is very close to you.
What is cosmetic dental implant?
The cosmetic dental implants that we use in our Provo, UT dentist clinic are the next best thing to get natural and healthy teeth. Cosmetic dental implant restores a lost tooth so that it looks, fits, feels and functions like a natural tooth when is done by the Provo dentists at our Provo, UT dental clinic. One of our cosmetic dentistry solutions is cosmetic dental implants to replace the tooth roots. The cosmetic dental implants will provide a strong foundation for fixed or removable replacement teeth that are made to match your natural teeth.
What are the benefits of cosmetic dental implants?
Healthy natural teeth
Long term dental solution
They retain your natural face shape and smile
Protecting the healthy bone
They allow you to speak easy without making strange noise
You can eat everything you like without being uncomfortable
You won't suffer from cavity
They are proven safe and effective
Are cosmetic dental implants successful every time?
Anyone that is healthy enough can be a candidate for dental implants at our Provo Utah dental clinic. Success rates of the implants vary, depending on where in the jaw the implants will be placed and after the evaluation, our Provo dentist will tell you the results. When the implants are done by the Provo dentist, they have a success rate of 98 % and with proper care they can last a lifetime. People who have dental implants say that there is very little discomfort during the procedure.
Do I need to take special care for my cosmetic dental implants?
Cosmetic dental implants require the same care as your real teeth, including flossing, rinsing with antibacterial mouthwash, brushing and most important regular dental check-ups. The Provo dentists at our Provo Utah dental clinic will make sure that your dental implants are durable and provide shiny and natural smile.